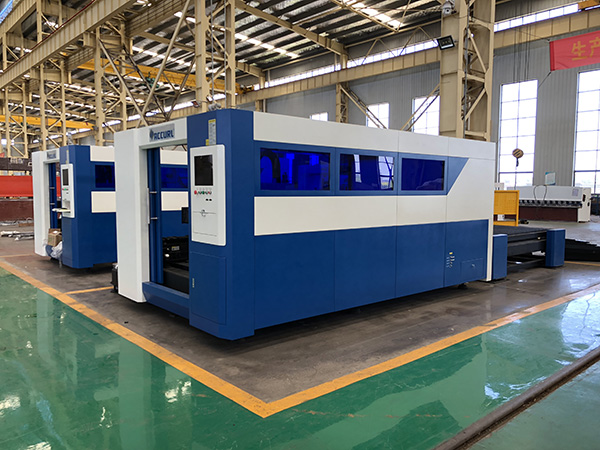 機器介紹
---
The machine adopt imported MAX Fiber laser source (500W,800W,1KW),dual driving ball screw moving system, fixed light-route with gantry style design, close-loop control with linear scale to make the cutting quality be perfectly match with the design.
It very suits for fast and precision cutting on stainless steel and mild steel., even radian and sharp corner can be perfectly cut.
好處
---
1.優異的路徑質量:更小的激光點,高工作效率,高品質。
2. High cutting speed: cutting speed is 2-3 times than same power CO2 laser cutting machine.
3.運行穩定:採用世界頂級進口光纖激光器,性能穩定,關鍵部件可達10萬小時;
4.光電轉換效率高:與CO2激光切割機相比,光纖激光切割機具有三倍的光電轉換效率。
5.低成本:節約能源,保護環境。光電轉換率高達25-30%。電耗低,僅為傳統CO2激光切割機的20%-30%左右。
6.低維護:光纖線路傳輸無需反射鏡頭,節省維護成本;
7操作簡便:光纖線路傳輸,光路無需調整。
應用
---
Hardware,panel,kitchware,stent, stencil, gasket, machine tools, arts and crafts, sheet metal cutting…
應用工業
---
Laser cutting machine widely used in automobiles, motorcycles, pressure vessels, chemical machinery,
nuclear industry, general machinery, engineering machinery, steel and other industries!
Applied Material
---
Iron plate,stainless steel plate,titanium plate,galvanized sheet, high speed steel,etc.
Packaging & Shipping
---
1.我們的木箱經過熏蒸處理。不需要木材檢查,節省運輸時間。
2.機器的所有備件均採用柔軟材料覆蓋,主要採用珍珠棉。
3.最外面是帶固定模板的木箱。
4.木箱底部有堅固的鐵製千斤頂,便於搬運和運輸。
我們的服務
---
Technical Service
Our techinicians are available to give you technical helping or offer training of how to use our machines.
As well, you can also send your own technician to our company to learn how to operate machines.
•Quality Guarantee
We provide 5 years warranty. We sign the agreement with detailed technical data.
•Long term cooperation
If we keep a long term cooperation, there will be more discout.
•Problem solving
We will provide solutions in one day.
We will solve complaints in two days.
常問問題
---
1.Q:Are you a factory or trading company?
A: We are a factory for 激光切割機
2.Q:您的工廠在哪裡?我怎麼去那裡?
A: Our factory is located in Maanshan(next to Shanghai), Anhui Province,China.You can fly to Shanghai airport directly. All our clients, from home or abroad, are warmly welcomed to visit us!
3.Q:How does your factory do regarding quality control?
A:"Quality is priority. we always attach great importance to quality controlling from the very beginning to the very end. Our factory has gained ISO,BV authentication.
4.How about your service?
A:We provide 5 years warranty. Besides, we will provide solutions in one day and solve complaints in two days.
5.Trade Terms:
♦Payment: T/T,Western Union,MoneyGram,PayPal; 30% deposits;70% balance before deliverying.
♦Delivery Time: 20-90 days
♦MOQ: 1 pcs
6.Why choose us?
♦We are China Leading laser cutting machine manufacturer.
♦Alibaba assessed 6 years Gold Supplier for 激光切割機.
♦Inspected by the Inspection Institution of Bureau Veritas Certification.
♦100% QC inspection Before Shipment.
♦Best Quality & Best Service with Competitive price.
快速詳情
---
應用:激光切割
條件:新的
激光類型:CO2
Applicable Material: Acrylic, Crytal, Glass, Leather, MDF, Metal, plastic, Plexiglax, Plywood
切割厚度:0-30mm
Cutting Area: 1500*2500mm
Cutting Speed: 0-8000mm/m
CNC或不:是的
冷卻模式:空氣冷卻
Control Software:DSP
Graphic Format Supported:AI, BMP, DST, DWG, DXF, DXP, LAS, PLT
產地:中國安徽(大陸)
Certification: CE, GS, ISO
提供售後服務:工程師可在海外維修機械
Product name: LVD CNC Laser cloth cutting machine
Working Area(X*Y): 1300*2500MM
Working material: Iron, steel, aluminum, sheets
X,Y Transmissions:Hiwin Square rail,Rack Drive
Accuracy: 0.02mm
電機:步進電機
Plasma Power: Hypertherm
Working Form: Untouched arc striking
Power: 8.5KW
關鍵詞: co2 laser cutting machine
亞克力激光切割機
,
激光切割機供應商
,
小型亞克力激光切割機
,
小型木材激光切割機